Transforming Your Brand: How businesses are moving from face to face to online presenting
We have been so used to doing business face to face that we have nailed it down to a science. But, now face-to-face interactions, is very outdated. In today's digital environment business leaders and entrepreneurs are moving from face to face to online presenting. It's more efficient, personalised, and accessible today. Before we dig deep into this blog, we'd love to know your take on the following:
What does your marketing and servicing your clients look like right now?
Is it a completely online model?
Is it still the same way as before the pandemic? Or, a hybrid with the flexibility of online and in-person servicing?
It must have been a daunting task, to begin with, but it's not insurmountable as today many businesses have adapted to it. If you are up for all online or a hybrid model, we're sure you're going to love reading this until the end. We have put together a list of actionable tip and tricks to bloom your business online to help you move your brick and mortar business to an awesome online business, Let us jump-start into it right away.
1. How You Can Leverage Your Digital Tools to Maximise Your Efforts
There's a common saying that with every crisis comes an opportunity and now regardless of the situation many businesses have learnt to adapt through this crisis & build new ways to execute their business through digital technology. Recently there has been an increased shift in business from bricks to clicks. Online presence has proven to be powerful & an incredible cost-efficient platform for different businesses worldwide.
Before the Pandemic happened, most companies had the same routine of working & doing the same monotonous task every single day. Today, it has shifted to something new and with digital tools, remote working is going towards a new height. Video marketing, live streaming is on the top of the list right now when it comes to engaging with customers & prospects. You can easily connect and reach out to target based audience through live streaming.
The old ways are not going to work, all those collaterals won't work, what will work is content will relevancy because now, everything you present to your target audience must be relevant with the situation. The clients should feel that personalised touch in the message you deliver them, and they should feel that you are helping them navigate this crisis.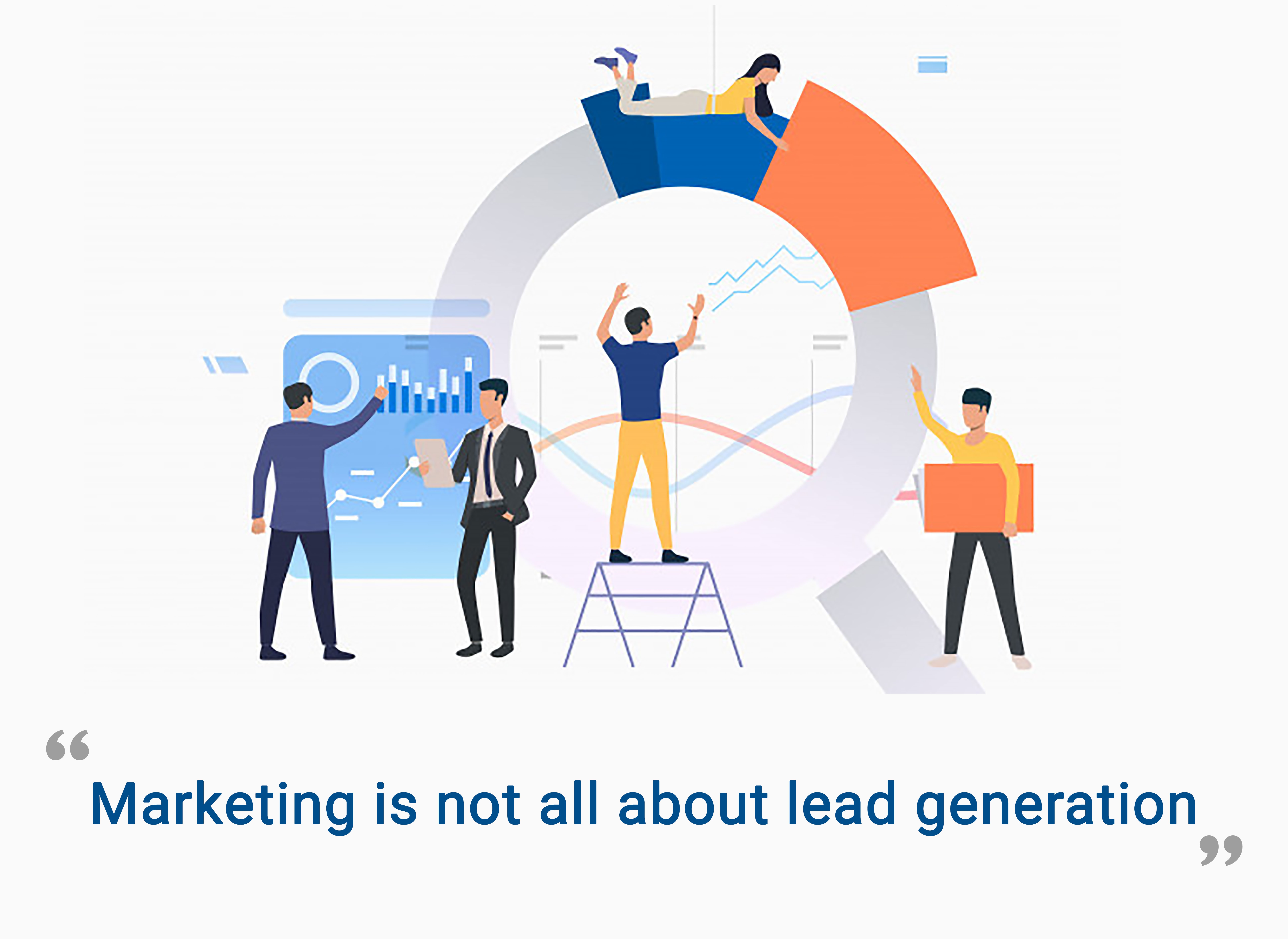 There's no doubt it will be a challenge at first, but you need to be prolific & proactive with what you're giving out to your clients. So, the idea here is to personalise your content according to your target so they can resonate from the content you give them. When you send the right information at the right time to the right people, then it gives terrific value and gradually your customers or clients will always seek out for your service.
Another important aspect that will grab your attention right now is, remember, "Marketing is not all about lead generation". The primary purpose of marketing is to build a brand, one common experience we often come across with our client, especially new prospects is they want to receive results rapidly like within a few weeks. This position of the client is completely understandable because who doesn't love quick results but it's important to understand that you need to work on building your brand first rather than generating more leads. Once you build your brand and put your brand in that position, you begin seeing the results and generating leads instantly. You must understand that our customers want the best product or services at the lowest price possible. Your business must be able to provide them with that.
Always be consistent with "What videos are you posting & how consistent you are? How does the message tone look like? How are you helping & adding value to your clients?"
Having that consistency is the driving force to attract new clients and keep your clients sustained to your business & service. Don't do it just for the sake of doing, do it with all your determination and give your clients the value they want. Having this consistency keeps that clarity and connection building up between you and your client helping you generate more leads, more sales, and more opportunity.
2. Powerful ways to add value to clients & prospects
As a business professional, this one works not just for now but for as long as you are in business. The first thing you need to question yourself is, "What value do my clients receive from the services & products I created?"
You see, all businesses want to increase their revenue and grow their customer database, but often leave adding value to clients & prospects behind. When clients use your products or services, they always see "What's in it for me?" & this is even more common during this uncertain time.
To find out the meaning of value to your clients, always put yourself in your customer's shoes & see the world through their eyes.
Recently there is a massive growth of traffic happening online, and people are investing their time in learning and enhancing their skill. This is the right time for all business professional to add value to their clients & prospects either through video contents, emails or virtual webinars. It's all about really understanding what the audience needs and giving that to them right away. This not only restores confidence to clients that you are the right provider but also makes you a trusted advisor for them.
Remember to personalise the message you send out. When you make clients feel like you're giving them individual attention, they woo and the more you woo your clients the better off you will be in a long run. For example, if you're doing a virtual event, make sure you're sending out clients personalised messages to them to attend the event & remind them what they are going to get out of the event. The key here is to build customers engagement. Never forget to follow up your clients after the event, ask them their feedback and suggestions, it naturally allows you to remind the client how you have added value to them and their business. The aim is to be a trusted adviser, and when your input is appreciated by your clients, it's less likely they will engage with your competition.
3. Practical tools that you can implement right now in your business:
The climate in business has been gradually changing & business professionals are now working to design new strategies & techniques. This interesting time is a great chance to reassesses and make changes in the business model to weather the storm. These key takeaways will help you get an idea of the practical tools you can implement right now in your business.
You need to have a clear content mapping, which means having that noticeably clear strategy or content page, which links to sales, marketing, business, finance, accounting, and other essentials in business for the next 90 days (about 3 months). You need to be clear on the part how you are helping your clients & how your team is going to help achieve that. This might be the best time for you to invest your time on it.
As we move from physical to online, having a personalised idea is necessary. You might be spending hours over hours sending out emails after emails or must be having 50000- 6000 connections in LinkedIn but not doing anything about it. Take this time to connect, choose this smart way to connect with them virtually, a short 15- 20 min video or a quick zoom session. What matters now instead of sending out long paragraphs of emails & 50-60mins video, make a 15 – 20 mins short videos and make the best use of this time to let your prospects know about your business and what they can get from you. This is what makes the magic.
There has been a rise in digital platforms like LinkedIn, Facebook, Instagram, YouTube today. With our experience, YouTube is one of the platforms through which we have seen exponential growth. What we mean by that is, the idea here is to make the best use of any platforms which suits the best for your business but make sure the content you are giving out is relevant & personalised.
Lastly, despite the chaos, keep an open mind & be positive. Understand that things will eventually get better. Make the best use of this opportunity to upscale & reinvent your business strategies, as you know that in business there is always huddles and challenges and this is no different.
Keep your chin up & keep moving.
P S – What other methods have you been using online to pivot your business? Let us know in a comment below.
Share this blog post with your friends, so they can benefit from it.
As the world is going digital, at VIS, we are pushing our boundaries to help our clients and alliances create their digital brand and monetise it.
We're here to help you get started. Get your 30 mins FREE Consultation
Don't forget to tune in to "The Digital Perspectives" LIVE every Thursday at 1:00 pm AEST.
► Support us by subscribing to the channel "The Digital Perspectives"
► Follow us on LinkedIn
► Follow us on Facebook