How to Boost Your Facebook Posts?
"If you can't spend $30 per month ($1 per day on Facebook ads), you shouldn't be in business."
– Brian Carter
With Facebook's current algorithm, it's difficult to reach all of your followers each time you post an update. However, putting some of the budget towards boosting Facebook posts can lead towards reaching both current and new followers, generating leads and improving brand awareness.
Boosting a post is available to anyone with a Facebook business page, and means you are paying to get your content seen by more people. In this five-step guide we'll show you how to use the feature, and how to get the most out of it.
FACT: Did you know that organic reach for branded Facebook pages is 2% on average?
Step 1. Choose a Post to Boost.
You need to pick a post that already has potential if you want to get the most out of your paid boost. For example, choose a post that is highly relevant and has already received some organic reach. Once you've decided, ensure there are no spelling errors in the caption and photos are engaging enough not engaging enough. Now you're ready to click the Boost Post button.
If you're drafting a post that you want to boost straight away, click the grey Boost Post button in the lower-right corner of the post box.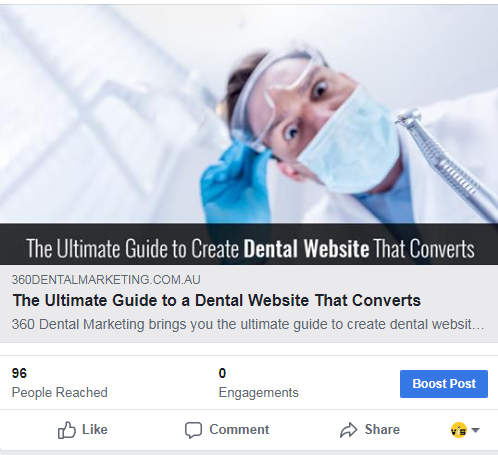 Perhaps you would like to boost an existing post? Click the blue Boost Post button in the lower-right corner. Another option is to go to the Insights tab where you will find a list of all your posts. Each will have a Boost Post button beside it.
Step 2. Select a Target Audience.
A new pop-up screen will appear, giving you a range of options and filters to choose from. You could choose to include only people who currently like your Page, people who like your Page and their friends, or a specific demographic of people based on age, location, sex, or interests.
If you would like to create a custom audience for your boosted post, click the Create New Audience option. Fill in the fields, click save and scroll down to select your budget and duration.
Step 3. Set your budget and duration
Now that you've defined your target audience, you'll need to choose a budget for your campaign. The minimum is $1 per day, and you can change it to any amount anything you like based on the estimated people reach figure.
Once you've selected a budget, you can decide when you want your post to run. You can select the duration to 1 day, 7 days, or 14 days. Or you can decide to run the campaign until a specified end date.
Step 4. Preview the Post and Select a Payment Option.
Take your time to review the post before it goes live. Make sure it's free of any errors, the links work, and the visual elements look good. Once your post is ready to go, select a payment option. Fill out the required fields and select continue.
Step 5. Boost Your Post!
Now you're ready to boost! Facebook reviews all boosted posts, to it might take a while before you see your post is published. You can view the status of your boosted posts by looking at the Delivery column of your Ads Manager.
Blog: Reasons to Invest in Facebook Ads for Small Business
Is there anything on the topic of social media that you'd love to know more about Social Media Marketing? Call us on 1300 777 847 or visit us here https://bit.ly/2GgBJ3k.