Four ways to encourage customers to share your content
These days nearly every brand is integrating social media in their marketing campaigns. This helps you to create a variety of social offers that can be easily integrated into your marketing efforts. You should incorporate a social element into every marketing campaign you run by finding compelling reasons for people to share.
Given below are four ways to encourage customers to share your content:
1.  When People Share More, Give Them More

If your fans or customers share your content then it's the time you reward them so they are encouraged to share more of your content. You can for example, provide them with attractive gifts or dinner coupons at five star hotels.
A celebrity singer Snoop Dog has recently made headlines for progressive group deals that he runs from his Facebook page. Each day in his page, a product is featured for a special group deal i.e., the more products with "Likes", the lower the price will be. Hence this encourages fans of Snoop Dog to be actively involved to share and like his page.
2.  Let Fans HelpYouTo Create An Offer By Themselves
When fans are allowed to choose which version of a product should be offered, or voted on for discounts or special offers they want to receive, they will want to share it.
For example, HarperCollins' Bookperk website, which keeps readers up to date on new books and special deals, lets members select books to be offered at a discount. Once members have chosen a book, they have the option to log onto Facebook and share their selection with friends.
3.  Identify, Recognize and Reward Superfans
People always love to get compliments for their good deeds and like to be recognized for their expertise and achievements. As mentioned in the above examples, besides getting maximum fans, the campaign entered a new direction. Some of the "superfans" took sharing to the next level. They generated their own tweets, directed messages and Facebook posts.
It's due to their interest in promoting the artist or product, getting free merchandise for their friends and establishing their reputation as someone in the know. Smart marketers will look to identify and reward these superfans on an ongoing basis, and further provide them with ways to carry out their message.
Once you've identified your superfans, make them part of your marketing mix. Give them preferential or early access to new items, and reward them with recognition on your Facebook page, Twitter or your website.
4.  Appeal to Their Humanity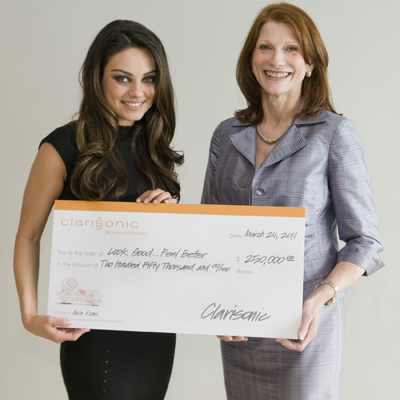 Creating campaigns that create awareness and helping the disabled and poor people will always lead the market. Your pure thoughts, human mankind and services are always welcomed by the users. They feel good and proud if they are able to help or do something for others.
For example, Clarisonic recently ran a fundraising campaign "Look Good, Feel Better," a program that helps women battling cancer cope with treatment which related to skin changes and hair loss. It contributed a $1 donation for each new "Like" on its Facebook page. The campaign made it fun and easy to share the program with friends by designing different "calls to action" which a visitor could choose and share. As a result, Clarisonic generated over 30,000 new Likes on the page.
So, serving for mankind and appealing to humanity is another way that will allow your online content be shared on a friendly basis.
Incorporating social media into your business is a key to success. Implementing the above mentioned four tips will help you enhance your marketing strategy even stronger making every dollar you spend seems like two.
If you are wanting next level of success in your business, just feel free to Contact VIS at 08-8338-3846 . We are just a call away from you.
Source: http://mashable.com/2011/07/12/encourage-social-sharing/