It's time for some new games. Are you ready to play this weekend?
Running out of games in your gaming library and looking for some smashing games to beat the heat? If so then we've got you covered with this week's best new game releases:
1.       Family First – Game based App
VIS – The Web & Mobile Specialist has announced the launch of its latest product – a state-of-the-art political app for the promotion of Family First party last Saturday.
Through the app, the users can stay connected with the latest news and updates about the Family First and also share the app among other contacts through social media sites like Facebook and Twitter. The most interesting feature of the app is the voting campaign. It is completely in game mode making voting a lot more fun.
Through the app the users can play a voting game and learn about the different policies and issues that are being raised by Family First like employment, affordable housing, personal finances, world class education, small business opportunities, cost of living, alleviating world poverty, corruption, human trafficking etc.
The app is available for free on the Google play.
2.       Brothers: A Tale of two Sons
Last week Xbox started it's expedition with a little-known game called Brothers: A Tale of Two Sons. This is a very adventurous game where you control the titular brothers who are on a quest to aid their dying father.  This game is already receiving extremely positive reviews and is worth picking up for your gaming station.

Brothers: A Tale of Two Sons can be downloaded now on XBLA for $15, and is coming to PC and PlayStation network within the month.
3.    Champs: Battlegrounds
If you are looking for some furious competitive game for your Smartphones grab the Champs: Battlegrounds, the new release of this week. Players build armies of "Champs," and go head-to-head against other players in the game's matchmaking system. This game takes the popular real-time strategy formula and adapts it for touch screens.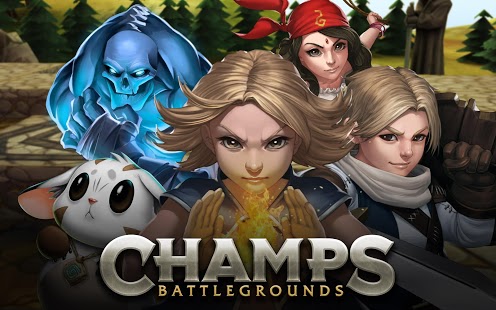 Champs: Battlegrounds is free for iPhones and Androids but some units costing money is charged to unlock.
4.       Papers, Please
Papers, Please is a game where you control the flow of people entering by inspecting their credentials. Here, you play a border patrol agent in a Soviet style country and decide who can cross the border. Depending on how you play, there are 20 different potential endings.
Papers, Please has been in beta for a while, but finally it came to Steam and GOG.com this week with a cost of $10.
5.    Spelunky
The original game was released on PC in 2008 and is available to play for free.  It's much more than a port of the original game, and has new graphics, music, zones, monsters, items, traps, and secrets. The controls are much smoother, too, and designed specifically for the gamepad.
In Spelunky, you play an intrepid explorer intent on securing treasure in the most sadistic series of caves ever. Spelunky's levels are all procedurally generated, so you'll never play the same game twice. Challenging games may stress you out, but the reward is always worth the struggle to master them.
You can purchase this updated version of Spelunky for $13.49, a 10% discount available until Aug. 15.
6.     Mario and Luigi: Dream Team
Mario and Luigi are characters that lend themselves to any type of game, but some of the best-loved are their series of RPGs on handheld systems.
Badges make a return in Mario and Luigi: Dream Team. As in the previous installment, Mario and Luigi can each equip one badge at any given time. When combined, two badges create a unique combo effect, useful in battles. Mario and Luigi each have six badge slots, resulting in 36 possible combos. Some badges are provided during your adventure and others must be purchased at special badge shops located in Pi'illo Castle, Dozing Sands, and Wakeport for $39.99.
So, what are you playing this weekend? Share your thoughts with us at info@visnetwork.com or simply dial 0431 041 875.